Why should Concrete be cleaned and sealed?
Concrete is commonly used in the construction of Pool Decks, Patios, Walkways, Driveways, Garage & Basement Floors, Brick, Block and Mortar. Concrete paving materials are offered in the form of Exposed Aggregate, Impressed Concrete, Paving Stones (commonly referred to as interlocking stones) Slab or Pre-Cast. Concrete can be natural or coloured with pigments and is found just about everywhere you look.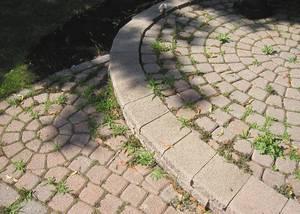 When concrete is first installed, it's smooth surface and vibrant colours (when pigmented) look beautiful. If new concrete surfaces are left unprotected or improperly protected with inferior products, the smooth surfaces and vibrant colours will soon disintegrate and stains will penetrate leaving an unsightly mess. Assumptions that concrete is strong and maintenance free for life could not be further from the truth. Concrete is like a sponge, how quickly it deteriorates depends on what it absorbs. To confirm this, drive through your neighborhood and look at the countless number of unprotected concrete and paving stone driveways that are stained and damaged by natural elements and through owner neglect.
The appearance and/or integrity of concrete can be effected by the following:
Staining caused by the absorption of Engine Oils, Transmission and Brake fluids, Automotive and Barbecue Grease, Rust, Paint, Rubber, Red Wines or Colas, Tree Berries or Sap, Bird Droppings and Animal Urine. Stains are aesthetically unattractive and may be difficult to remove unless the concrete is previously protected.
Acid Rain will continually dissolve the concrete's color pigments and erode the finish of the pavement until it is left dull and pitted.
UV rays & Chlorine based Swimming Pool Chemicals will dramatically fade coloured concrete over time.
Freeze-Thaw Cycles (caused by water absorption into the concrete pores from rain or melting snow on Fall and Winter days where the temperature is above 0 degrees Celsius. Nighttime temperatures drop below 0 degrees Celsius and cause this absorbed water to freeze and expand, breaking down the concrete cells and it's overall integrity. Over time this will cause erosion, shaling and pop-outs. For great examples of this, examine any new sidewalk compared to a 5, 10, 15 & 20 year old sidewalk. The difference is shockingly obvious.
De-Icing Salts can pit the concrete's smooth surface within one winter's use if left unprotected.
Efflorescence Deposits (white soluble salts which create a whitish haze on concrete surfaces). Efflorescence will obscure the true color of your pavement, slow down moisture evaporation and trap dirt in surface pores. Efflorescence is present in most concrete and "must" be removed from the surface prior to sealing.
Weeds and other vegetation will grow in-between the paving sand joints as seedlings take root in the surface of the dirt contaminated low sand levels.
Sand loss from the paving joints is inevitable with wind, rain wash out and tire pick-up. This will lead to instability in the paving stones and the essential stable base below. Sand joint stabilization is imperative.
Stains and damage can be avoided by using premium STONESAVER sealers, repellents and paints.
STONESAVER is a Premium Total Concrete Surface Care System that is designed in a three step program.
STONESAVER's "Step 1" consists of three Stain Cleaners, Citrus Oil Degrease, Rust Remover, Stripper, which work to remove topical and penetrated stains such as Oil, Grease, Rust, Paint, Chewing Gum, Tar and Rubber from concrete surfaces. Failure to remove stains prior to sealing can interfere with sealer adhesion. These cleaners are easy to use (pour, scrub & rinse method) with most being non-fuming, odorless or pleasantly scented. They are materially safe for use around swimming water or vegetation and are biodegradable within hours.
STONESAVER's "Step 2" consists of the "world's first acidic based soap" surface preparation cleaner, which requires no chemical handling or mixing by the residential user. STONESAVER's Concrete Cleaner & Surface Prep comes in a 1 litre bottle equipped with an "auto diluting" hose end applicator (much like many lawn fertilizers). STONESAVER's Concrete Cleaner & Surface Prep is so concentrated that it cleans 300 + sq. ft. on paving stones and up to 500 sq. ft. on slab concrete, while weighing only 3 ¼ pounds. Simply connect it to the garden hose and you're ready to clean with this cherry scented soap solution. This process will remove dirt, light tire tracks and efflorescence from the pavement and allow for proper sealer to surface bonding. STONESAVER's Concrete Cleaner & Surface Prep can be well rinsed onto lawns and garden beds without damage to vegetation.
Any acrylic sealer applied over uncleaned
or improperly prepared surfaces can fail.

The true Paving Stone colours are obscured by dirty and lifting sealer.

In this close-up you can see the red colour is obscured by the hazy delaminating sealer.
STONESAVER's "Step 3" consists of the most premium concrete sealers, water repellents, satins and paints available on the market today. STONESAVER's Step 3 products out perform the competitors with the most advanced technology. They offer the longest lasting and highest protection against stain penetration while being easy to apply for the weekend warrior. STONESAVER's offers the following products in 1, 5 and 45 gallon containers.
| Before photo of pavers left unprotected. The efflorescence can obscure the true colors making paving stones look faded. | After photo of the paving stones after Cleaning & Sealing with STONESAVER's Surface Prep and Paving Stone Sealer. |
| --- | --- |
Protect your costly investments with Premium STONESAVER products. The product the professionals use !